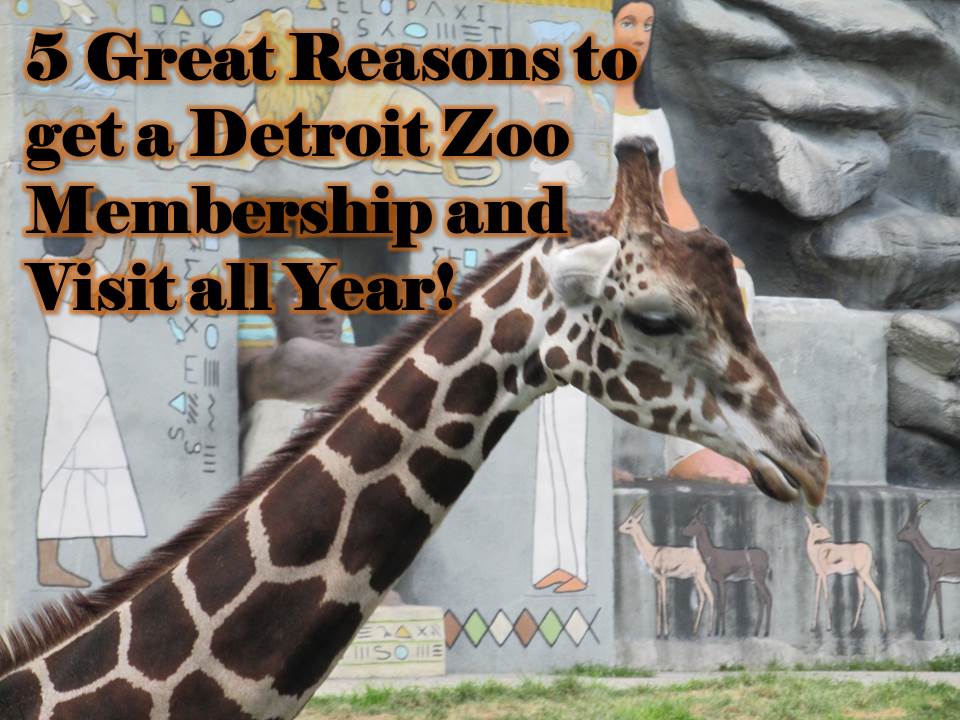 I have fond memories of the Detroit Zoo from when I was little. I remember my mom standing in the doorway of Nana's house spelling out z-o-o as they talked about our family day trip. I yelled out ZOO! Apparently my mom didn't know I could spell at such a young age. I loved the elephants best and am sad they are no longer there, but there are so many other things to fall in love with at this great Michigan attraction.
Things have changed at the Detroit Zoo since I learned how to spell. If you are within an hour's drive and your budget allows, it is worth it for your family to purchase a membership for only $89 ($79 if you live in the Tri-County area) and check it out. This price includes two named adults and up to six children. General admission is $14 for people over 15 and $10 for ages 2-14, active military members and people 62+. When you total that up for our family, we will pay for our membership in two trips to the zoo.
You may ask, why would we want to go to the zoo more than one time a year. You see the animals and you go home, right? Well here are a few reasons why you want to grab a membership to the zoo and make visiting more than a once a year occasion
1. The zoo is just plain fun! It doesn't matter what age you are, looking for the cute little red panda or watching monkeys be monkeys never gets old. You can walk through nature and be outside. There is a playground for the littles, ice cream, popcorn, and Starbucks if that is your thing. Bunnyville, Wild Summer Nights, and Wild Winter Weekends are all free with admission and include special entertainment and crafts for kids. It's great to pack a picnic during the warm months and just relax in the shade.
2. You can take your time- If you are paying full price for admission for a one time a year visit, you may feel pressed for time to see all the animals. You may feel like you have to skip certain habitats that are too crowded or need to rush through others. With your membership, you can come back any time to observe your favorite habitats and take your time walking through the park. You can stand in line to feed the giraffe without feeling like you are totally wasting the day. I love taking the time to tell Sweet V about all the unique characteristics of the animals and sharing how God made so many wonderful creatures to do amazing things. Instill character in your kiddos by teaching them to be aware of the little things in nature, slow down and help them to really learn to stop and smell the roses….or the chimpanzee house in the winter. Speaking of winter….
3. The zoo in the winter is better! Michigan winters can be gloomy and boring. Especially if skiing and snowboarding aren't in your budget. So why not scope out a sunny-ish weekend with above freezing temps and head to the zoo? The animals are much more active in their habitats than they are on the lazy summer days. Many animals stay in their enclosures during the cold months, so you get to walk in with an up close and personal view. My personal favorites are the chimpanzees and the giraffes. Not many people think to go to the zoo in the winter, so there is no crowd. The Arctic Café is the only eatery open during this time. We choose not to pack lunches in the winter and just spend the money for lunch. But you most certainly could if you wanted to.
4. Memberfest- The Detroit Zoo puts on a few events throughout the year for members only. Recently, we attended the opening of the Polk Penguin Conservation Center. This event was free to members and happened after normal hours. We had to simply register online, print tickets, show up and enjoy! We were given timed entry passes to see the new penguin exhibit, so while we waited for our turn we enjoyed $1 hotdogs, soda, and chips. We snagged some popcorn and played on the playground. Then we enjoyed a small crowd experience of the zoo's newest exhibit. I even splurged for a 20% members only discount item from the penguin gift shop. And if you know our family, you know that was definitely a treat for Sweet V!
5. Reciprocity- We haven't utilized this portion yet, but plan to this summer. The Detroit Zoo has 50% reciprocity to many zoos and aquariums nationwide. So for us living in Michigan, that means we can get into the Toledo, Cincinnati and other Ohio zoos for half off of their admission prices. There are other zoos to visit in Michigan as well, such as Lansing, Battle Creek, Grand Rapids and Saginaw. Those are all a summer day trip away. You can also get half off to the amazing Toronto Zoo which is my favorite zoo!
So start saving your pennies and plan on grabbing up a membership. You can purchase online or at the front gates of the zoo. I hope to see you this summer, and if I do, let's grab some ice cream together.
Life is good. Michigan is great. High five for home!
What's your favorite part of the Detroit Zoo? Let us know in the comments.
I'm not "lion" when I say membership is great!
Click below for membership info!