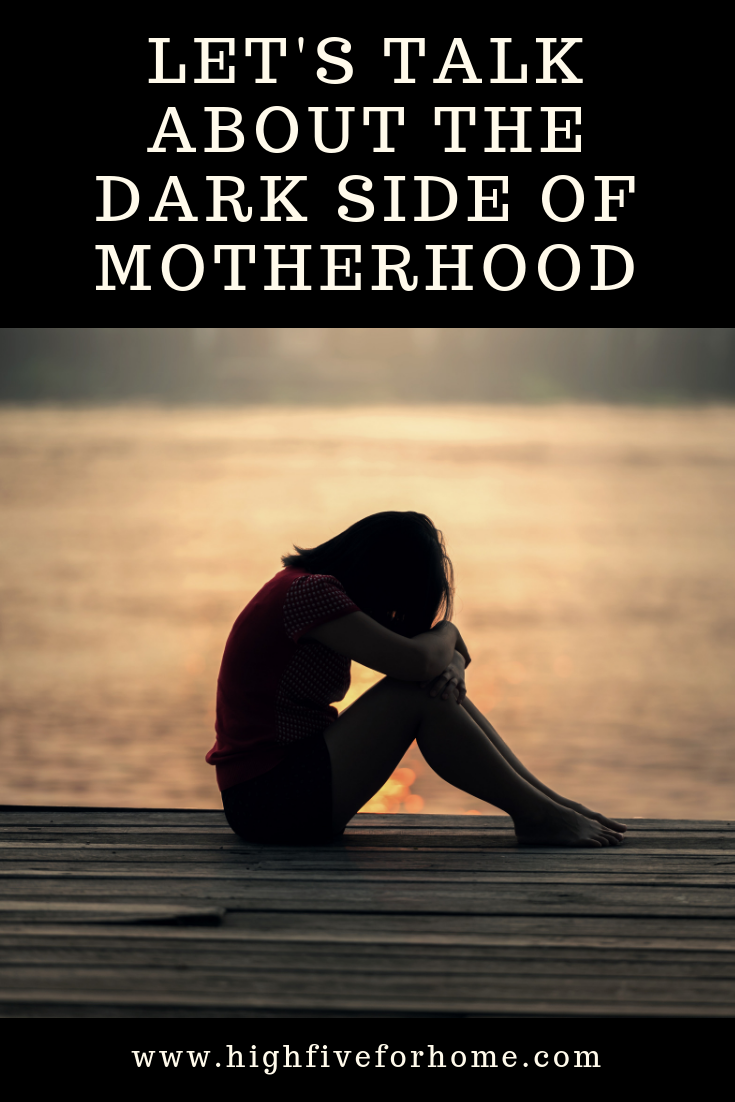 This week I learned about the beautiful Detroit meteorologist, Jessica Starr, who took her own life.
I don't watch the news anymore, so I wasn't familiar with her, but my first thought was, "I wonder if she had little kids."
I read a little about her and then looked at her social media. I learned she had a 5 year old son and what looked to be maybe a 3 year old daughter. Her life seemed so good! Educated with two degrees. Boating. Handsome hubby. Gorgeous. Cool job. Fun social events. It looks like she had it all.
I don't want to disrepect her or her family by pretending I know why she felt desperate enough to leave this world. It could have been medication or depression. Having lost a brother to suicide just last year, I don't think anyone ever really knows why someone does this. But I do know that motherhood is hard. It is SO.VERY. HARD. It takes you into dark places and if you add any other thing to that darkness without the hope and light of a way out, I can imagine for some women, it can just be too much.
As much as we want to shine the light on the beauty of being mommy, the truth is that we shine the light because it is an incredibly dark place to be in sometimes.
Let's talk about hormones and the ups and downs of moods for months or years after childbirth.
Let's talk about how those mood swings literally rewire our brain pathways and if we don't recognize what is going on, we can't stop it until the brain is "broken" in a sense.
Let's talk about how the cultural shift in expectations as a woman has also shifted the cultural expectations as a mother.
Let's talk about how we have more leisure time and domestic conveniences than any generation of women before us, yet feel exhausted and drained and overwhelmed more than generations of women before us.
Let's talk about how even though we are more connected than ever through technology, we are incredibly lonely and disconnected as a community of woman who once physically joined together to walk through the darkest days of young family life.
There is no perfect era to be a woman. As we make strides in areas of equality, having opinions and ideas that matter, and a voice to be heard as strong, successful women, we also take steps back and struggle to do what we were created naturally to do from the beginning of time…strong, successful mothers and wives who first nurtured their homes and then extended that same care to those around us.
It's hard to believe we can have success in all areas of womanhood. I often think it's a lie to say we can have it all.
But maybe we can actually live in the light and less in the darkness of womanhood and motherhood.
It's going to take work and it is going to take us all, but we can help each other stay in the light.
Keep your eyes open.
Recognize the struggling mommas around you and engage them. Whether it is texting, coffee date, or just chatting them up at school drop off, keep talking to the new mommas and new again mommas in your circle. They need to know that someone sees them when they are drowning in the chaos of babyland and toddler/preschool years.
Step out of your own bubble.

I get in my own groove with my own issues in life that I sometimes don't want to invite anyone else into it. Accept the playdates. RSVP to the party. Invite the new girl in the neighborhood to your coffee shop or book club. Whatever it is, we need to embrace the social side of life, even if it means we have to spend an hour to load up our brood for two hours of chaos. We need to get out and see the life outside of our bubble.
Keep telling your story.
We need to hear the stories from other women who have stepped through the dark days. We need the stories of how our sisters learned self-love and acceptance. We need to hear the stories of how our sisters survived post-partum anxiety. We need to hear the stories of how our sisters found physical and mental health. We need to hear the stories of how our sisters found balance.
Keep fighting.
If you are in a dark place, keep fighting to get to the light. Don't give up. If it is severe, pick up the phone and call your doctor. Get medicine. Go to therapy. Don't let the blues turn to black. Get outside. Get your body moving. Feed your body what it needs. Feed your soul the love it craves. Keep fighting until you win.
Shine your light to others in real life.
If you are in a good place in your womanhood, shine it to other women. Reach out to the group around you beyond a social media post. Real connection ALWAYS trumps online inspiration. Make the drive. Take the meal. Send the cards. Take their kids.
We need each other. We need the village. Your strength is the strength of others.
So sweet sisters, do whatever you can to love on yourself so you can love others. We cannot pour from empty cups. We were made to do this life together. We have to remember that women were created as the masterpiece of God. His final work of creation. Our very identity is in the beauty and strength of God himself.
If you are in a dark place, please do not hesitate to get help.
https://suicidepreventionlifeline.org/talk-to-someone-now/
Life is good. Walk out of the dark into the light.
High five for home.