It's the longest day of the year and the official start to summer! The sunshine-y weather means a little more spontaneity and fun for families. That means last minute phone calls(who am I kidding…text messages) to meet up at the park to squeeze in outdoor fun before a rainstorm, or a spur of the moment invite to your friend's pool or meet up at the beach. If you are out of the diaper bag years…hallelujah, but that may mean you do not have a fully stocked bag to address any out-of-house crisis that may happen.
So here is my solution for you to be ready to go when you get that call for last minute summer fun.
All you need are two totes and a toiletry bag. So start digging out all of those 31 bags or free nylon bags you get whenever you sign up for anything these days and load them up for summer.
In your toiletry bag you will need the following items:
*Baby wipes
*Nail clippers/tweezers
*First aid kit
*Hair ties
*Dry shampoo
*Bug spray
*Sunscreen
*Baby powder
*Mascara
*Deodorant
*Hand lotion
This small bag will go between the following two bags.
Ready for the Park
When it is 10:00 am you realize you should probably do something with your day today before lunch, you might decide you want a last minute trip to the park or maybe bike a trail. Not much is required for this, but if you are a mom like me, you want to be semi-prepared away from home.
Find a bag or tote that is big enough for your toiletry bag and an old sheet or picnic blanket. Throw in a few nonperishable snacks and this bag is essentially ready. When you decide to head out at the last minute, toss in your toiletry bag, a few apples from the kitchen, grab the water bottles, and go! Easy peasy!
Ready for the Beach or Pool
Living in Michigan, I have always been less than 15 minutes from any beach or friend's pool. It is something I have tried hard not to take for granted because I know this is a summer blessing many do not have. I also try to be a courteous friend and when I get a last minute invite to a pool, I try to arrive quickly, bring my own essentials, and stay for only a few hours.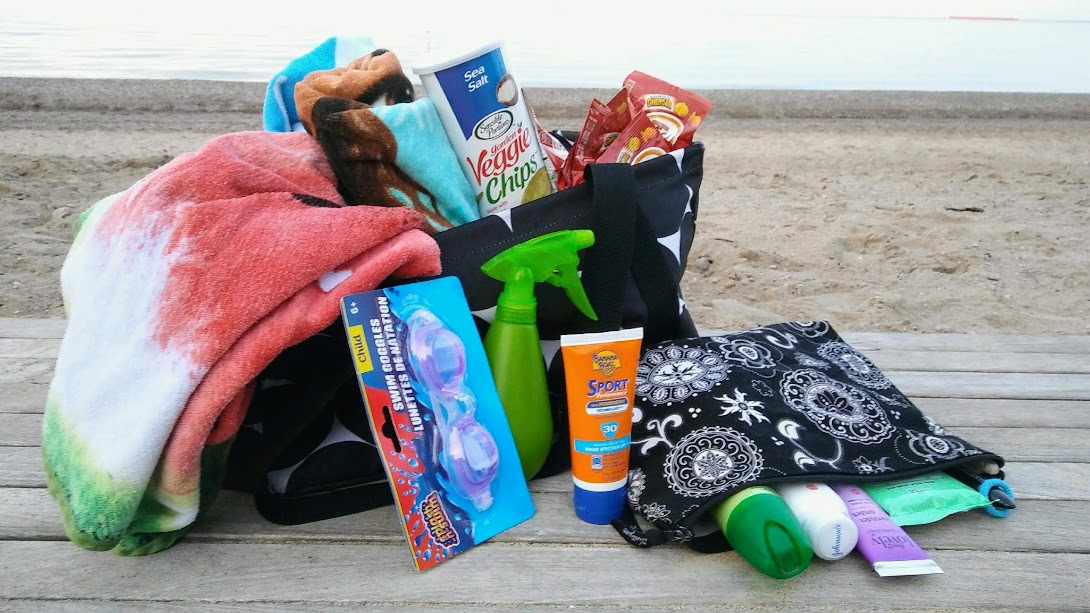 So this bag is a little more elaborate. I keep towels in this tote, a wet bag, and a larger bottle of sunscreen. If you don't have a wet bag, you can use a plastic Target bag. I also keep the swim goggles and a couple of tiny pool toys like those dollar store water balls or dive sticks. When I get the text, I simply throw on my suit and cover up while Sweet V gets on hers, toss my toiletry bag in the tote, grab a few snacks from the pantry, and off we go for a few hours of pool or beach fun.
The wet bag comes in handy for kids' wetsuits and the baby powder is essential for removing sand off of feet before getting back in the car.
Bonus Bucket
I keep this little bucket with a few sand toys in my vehicle or wherever I will remember to grab it.
Remember, this is not how I pack for a full day of fun at the beach or park. It is just how I stay ready so I can keep going and not stress in the summer. In my old house I kept the bags in my laundry room which also happened to be right by the garage door. I threw wet towels and suits right into the dryer and put them right back into the bag when they were done. This summer, my living is a bit different, so I will probably keep these bags by the front door, so I can grab and go. Find a system that works for you.
Update: My super mom friend commented on Facebook and said that she also keeps a change of clothes for her two girlies in her car. I am going to be adding that this week.
What do you recommend in your on-the-go bag? Let us know in the comments.
Michigan summer is good. Being ready for last minute fun so you can soak it up even more is great! Keep making memories and keep making your house a love filled home.
High five for home!